Sorabol is Bangkok's longest-running Korean restaurant, and their Korean BBQ is pretty great.
Apparently this is the longest running Korean BBQ restaurant in Bangkok. It's quite a big place with lots of seating. Was here during a regular weekday, and it was quite full, and a bit understaffed (it was hard to get the staffs attention at times).
The food was great though.
🥩BBQ Beef set
Feeds 2-3 people. Costs around 1600 Baht (plus service charge and taxes). Great meat with plenty of quality barchan (the little side dishes).
100g of thinly sliced short ribs (Saeng Galbi)
150g of ribeye steak (Deung shim)
115g of spicy marinated thinly sliced beef (Yang yum galbi)
200g of marinated thinly sliced beef (bulgogi)
a big bowl of soybean paste stwe with vegetables and tofu (doenjang jjigae)
You can ask the staff to barbecue for you if you want. The quality of the meat was very good, everything was clean and had a good aesthetic.
Banchan (Korean condiments)
When you order Korean BBQ you always get free, refillable condiments. There's of course the obligatory bowl of Kimchi, which was good but a bit on the bland side for my taste, a bowl of radish kimchi, and sukju-namul (mung bean sprouts).
The banchan (반찬) are pretty good.
The Pajeol-i (파절이), Korean spicy green onion salad, was good, but far from the best I've had in Bangkok.
The sigeumchi namul (시금치나물, Korean spinach) was good. Fresh and still had some bite to it.
Bibimbap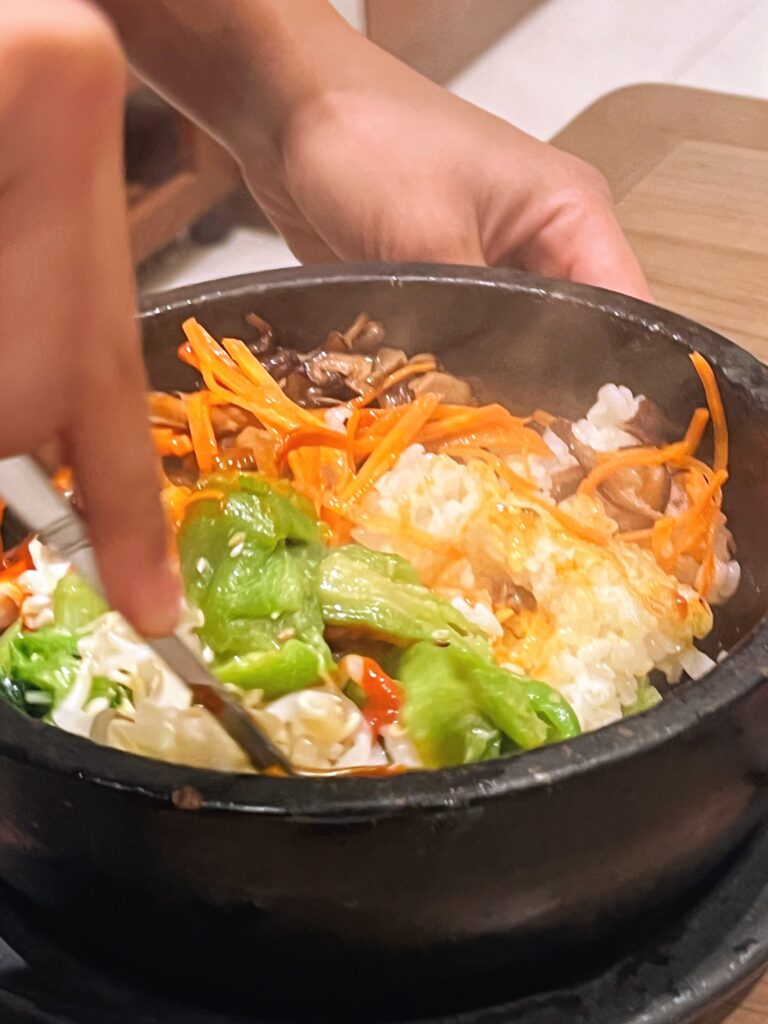 🍲 Pork bibimbap was pretty bland, and contained very little pork. Wasn't impressed.
Noe of the things I liked about this place was the sheet of paper that explained the different condiments and displayed three ways of enjoying your Korean BBQ. This way you get a little food education right at the table.
I've also never had myeong-i namul (a sweet pickled leave that you wrap around a piece of meat), and that alone is great. That being said, be aware that the myeong-i namul is limited: you get one serving and that's it.
Service
The service was friendly, but over capacity. It was quite hard to get the staffs attention at times to order drinks, get banchan refills, and order more food.
Once we managed to get the waiters attention and ordered the check, it took about 10 minutes to get the check, and another 10 minutes to get our change after we paid already. Basically when I tell the waiter I want to pay, I want to get out there as soon as possible and not spend another 20 minutes sitting at the table.
It's a yes!
It's definitely one of my favorite Korean BBQ places in Bangkok. It's very clean, the quality of the meat is great, good condiments. Plenty of Korean and Thai customers here. It's best to book a table in advance, especially on weekends and holidays.