Bangkok used to be called the "Venice of the East" long ago – because life was happening mainly on waterways. Nowadays of course, it's a concrete jungle, but there are still some remaining waterways which are used as a mode of transportation. The most popular one is the Chao Phraya river – which floats all the way from northern Thailand into the gulf of Thailand and separates Bangkok in two halves. If you're visiting Bangkok, taking a boat ride on the Chao Phraya is an old tradition, especially for a view of the Grand Palace either in the early morning hours when it's glistering with the rays of the days first sunlight, or at night, when it's shining it's golden light brightly in the darkness.
But even during the daytime it can be an interesting boat ride. If you don't want to go with the Bangkok dinner cruise, you can also take the very cheap and low-key Bangkok River Express Boat, which actually serves as a means of transportation for local people, but is popular with tourists too. A ride here costs just around 20 Baht – but it can be very crowded. Here you find a map of the stops the Chao Phraya River Express boat makes. (Click on the image for full size view).
Be aware that there are different colored lines, and not every boat stops at every pier, so it's worth checking that the boat you're getting on will stop at your destination.
There are a couple of noteworthy attractions along the river, like the Grand Palace and the Wat Arun temple, and some of the impressive bridges, but mostly a boat ride is interesting for the atmosphere, and the sometimes little quirky and fascinating things you can spot along the waterside.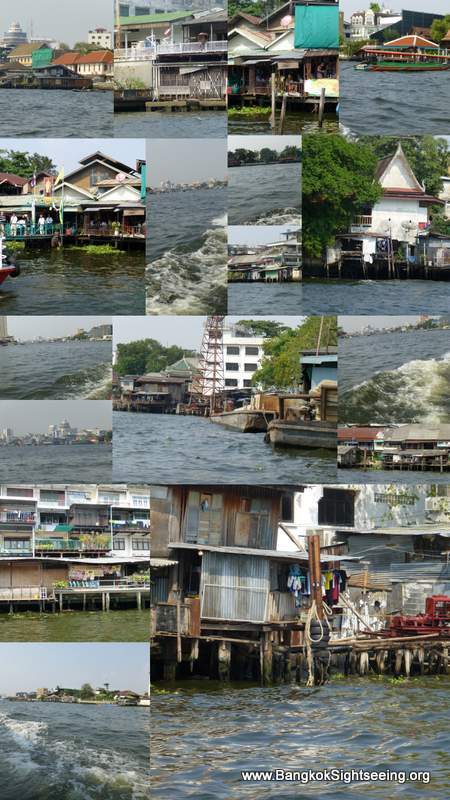 You can do this kind of sightseeing tour in Bangkok on your own, or hire a personal tour guide.
There are all kinds of boats maneuvering on the river, some big, some small, and many in between.