The Country Wife is the newest play to be staged by the Bangkok Community Theatre.
The playwright, William Wycherley, was born near Shrewsbury, England, in 1640. He relished the new found freedom when theatres re-opened on the restoration of the monarchy with King Charles II, after an eighteen year period of puritanical Parliamentary rule.
BCT's production explores the parallels of 17th Century society with the present day; one which is obsessed with material wealth, fashion, gossip and sexual freedom.
Bangkok Community Theatre has been producing live shows for about 40 years. Their last production, Nunsense, was a sellout success and if the interest already shown in The County Wife turns into ticket sales, their latest show will be another smash hit. The director is Severin Herbert, Director of Drama at Harrow International School. He last directed Lysistrata for BCT based on the ancient Greek play. With The Country Wife, he is bringing another classic comedy to Bangkok audiences. But does a 350 year old play set in London have any relevance for modern day Bangkokians? As Severin Herbert says "there are many good reasons for staging The Country Wife. It is a play about sex and marriage; double standards and hypocrisy; gossip and stealth. It has huge parallels in our own modern age. The news is always full of those who stand before us as moral leaders, falling down because of their private behaviour; our media heaves with gossip and speculation and with celebrities famous not for their talents but for simply being a celebrity."
The Country Wife has a cast of fifteen. Half the actors are new to a major Bangkok Community Theatre production having recently made their mark in BCT's Fringe Show. Newcomer, James Laver, plays the debonair but deceitful Mr Horner who is happy for a rumour to be spread about town that he has become a eunuch following an illness in France. This gives him the perfect excuse to mix freely with the 'ladies' who are not as prim and proper as they would like to appear. Stephanie Wallis, a BCT regular, is Lady Fidget, one of the not so chaste ladies who is only too pleased to be palmed off on Mr Horner by her foolish husband, Sir Jasper (Michael Allman, another familiar BCT face) who is only interested in money and business.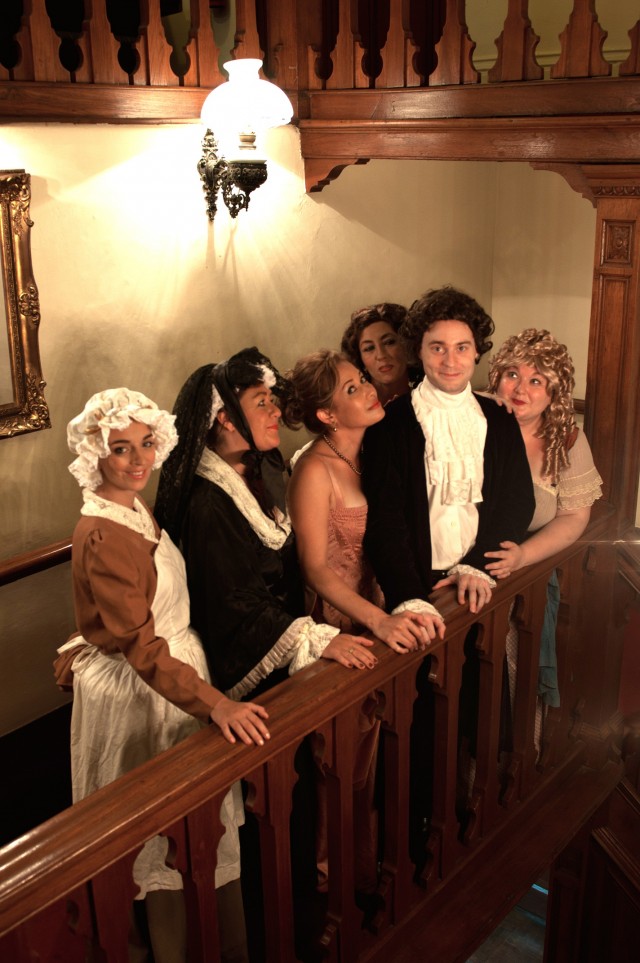 Nic Frances, who almost stole the show in last year's production Pygmalion as Mrs Pearce the Housekeeper, takes the title role of The Country Wife, Mrs Margery Pinchwife, the innocent young country girl who is introduced to the wicked ways of London. But will she succumb? Her bullying husband, in the capable hands of Jonathan Truslow (Henry Higgins in Pygmalion) will do all he can to make sure she stays on the straight and narrow.
The Country Wife is a fast-moving farce full of double entendres, mistaken identities and good old British honest vulgarity. Fans of the Carry On film series of films might recognize similarities with their love of naughtiness, ridiculous characters with ridiculous names (e.g. Old Lady Squeamish!) and a riot of fun.
Tickets are 800 baht and will go on sale from 1st September. Bookings can be made by emailing bctcountry@gmail.com or calling 081 937 3600. More information can be found at www.bct-th.org and on BCT's Facebook pages.
Tickets are also available at Nelson Hays Library Cafe in Suriwong Road and at the British Club (for members).
For those wanting to make a night of it, The British Club will be laying on a sumptuous pre-show buffet of traditional British dishes. If you are looking for a fun night out with lots of laughs mark your diaries now, Wednesday 10- Saturday 13 October, and make sure you get a ticket.
You might want to leave your maiden aunt at home if she is easily shocked. On the other hand, with the temptations of Bangkok on her doorstep, there is no knowing what she might get up to. After all, as The Country Wife shows us, appearances can be deceptive.
Written over 350 years ago, The Country Wife, is William Wycherley's hilariously bawdy classic Restoration comedy. It will be staged at The British Club from 8pm to 10pm from Wednesday 10 to Saturday 13 October 2012. It's themes of sexual freedom, gossip, double standards and hypocrisy are as relevant today as they were in the 17th Century but, above all, the play provides plenty of belly-laughs and a really fun night out.
When?
10pm through 10-13 October 2012 .
Where?
The British Club
Silom soi 18
Bangkok