Now, if you've been reading us for any amount of time, you know that we're not just Bangkok sightseeing lovers, but also Bangkok food lovers.
That's why we checked out Ise restaurant, a Japanese place near Phrom Phong. They actually do belong to the Ise restaurants in Japan, in case you know of them.
It's (very) budget friendly for a Japanese place.
A menu (including a main meal, a soup, a small bowl of noodle salad and deliciously prepared soy beans, tea or coffee and a dessert) costs below 300 baht.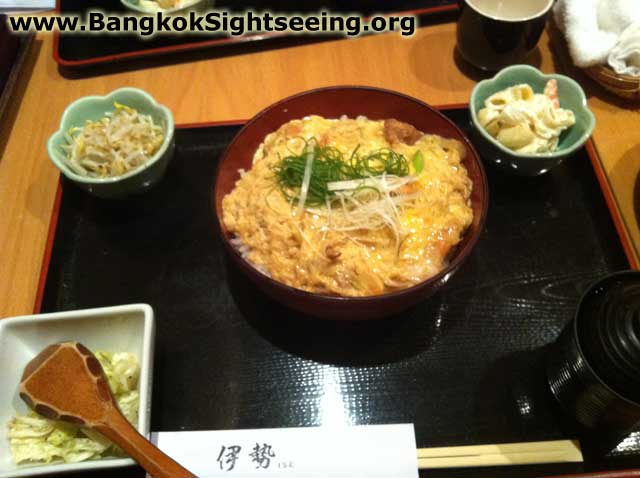 My main meal of choice was Oyako-Don. pPremium Japanese steamed rice that has been cooked in a special sweet sauce. On top of that, fresh (soft) egg and chicken.
The menu is rather cryptic if you aren't already well-versed in Japanese food-lingo:
Yet, the food is good (but not great, more like just a little above average good) and VERY filling.
I know a lot of people who think that Japanese food almost leaves you feeling hungry. Don't worry about that at all.
A positive surprise where the soy beans, which were very yummy, even though we're not very fond of these usually very plain* tasting fellows.
The soup was also very nice.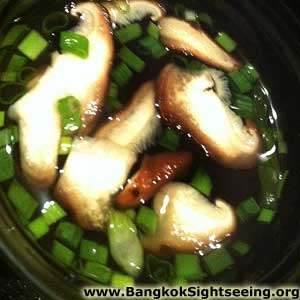 And…
well, a highlight definitely was the dessert.
Not masterfully prepared – but if you've just got the munchies, it's great.
Now, overall this place is good. The quality of the ingredients, the cleanliness of the place – all nice, all good, and all a bit better than what you can usually expect in that price range, and considering that it's not a big franchise chain.
The staff is also friendly and nice.
Yet… the food is somehow lacking the edge. It's good, but somehow not "gut genug" (good enough, as my German friends know). It's just a bit too plain. It tastes… "correct". As if someone has copied and pasted a good cookbook recipe. But in a way, that makes it too mechanical – I didn't feel that there's someone in the kitchen who poured his heart into it, somebody with a passion for food. (That might be totally wrong of course – that's just the impression I got from eating the food, not from watching the kitchen staff)!
If you want to give this a try, head to Sukhumvit Soi 39 (BTS station Phrom Phong, near the Emporium).
Then walk down Soi 39 for a couple hundred meters, until you get to the Romana restaurant. That's the most visible sign that you're in close vicinity. Then, watch out for the most difficult to spot Japanese restaurant that you can find there. That's it. Unfortunately, we didn't take a picture of it from the outside that would help you to find it.
ดู ISE ในแผนที่ขนาดใหญ่กว่า
28,28/1 39 Complex Sukhumvit soi 39, Klongton-Nua ,Wattana , Bangkok 10110
Tel: +66(0)2-662-6422
* polite codeword for "boooring!"